About
US Standard Apparel was founded in 2018 by Sean Sassounian and Jakob Deitell.

When they met, Sean had been operating SAS Textiles for close to 30 years as the premier knitter on the West Coast, supplying fabric to Amiri, John Ellliott, YEEZY and many other premium US-produced apparel companies. While Jakob had been managing production for multiple brands in the same sphere and, consequently, purchasing fabric from SAS. The idea to become partners and form an apparel company occurred organically, as a reaction to the rapidly growing domestic apparel manufacturing market.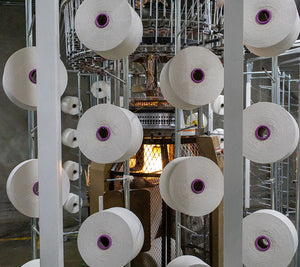 US STANDARD APPAREL's ECOCYCLE® Program is produced using ECOCYCLE® yarn: 50% recycled, 50% BCI (Better Cotton Initiative), 100% cotton yarn from premium Spanish mill Belda Lloréns.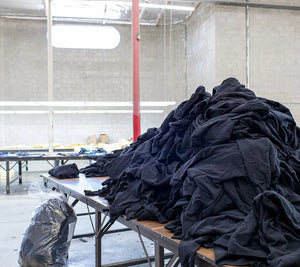 US STANDARD APPAREL offers a full range of 100% ECOCYCLE® cotton tees, hoodies, crewnecks, sweatpants and sweatshorts that are produced entirely in-house in Los Angeles. Thus far, most
recycled cotton products have been notable because they're recycled. ECOCYCLE® is an amazing product...that happens to be recycled.
ECOCYCLE® yarn is produced at the Belda Lloréns facility in Alicante, Spain, which is 75% powered by
solar energy, and comes with Oeko-Tex Standard 100 and Global Recycled Standard certificates. The yarn's
50% recycled component is sourced from Belda Lloréns' recycling partners, who mechanically recycle cotton fabrics that have been sourced in Europe and the United States. Every pound of ECOCYCLE® yarn saves 5.46 square miles of land cultivation, 2,024 gallons of water, 14.90 kWh of electricity and 7.85 lbs of CO2 compared to conventionally grown cotton.
Today, many of the largest brands in the industry utilize ECOCYCLE blanks or, for companies that require more specific fabric & construction details, USSA Private Label programs. All knitting,
cutting & sewing, print, embroidery and finishing are all done in-house in Vernon, CA. USSA is one of the only vertically integrated apparel widgets in the United States.